We all know this road: your media buyer uses your standard or premium Facebook or Google ads American Express credit card. You're all for it since you're raking in points. Later, it turns the wrong way, and you're leaving money on the table. You're paying exorbitant fees for each card and taking massive security, fraud, and account ban risks.
Time to identify the challenges advertisers face when they pay Facebook ads with a card and how to deal with them.
Why using a credit card for advertising is a big mistake
Media buyers' most dreaded nightmare is getting their accounts banned and seeing a notification "suspended payment method Facebook" repeatedly. If a Facebook or Google algorithm flags your payment method, ads, or profile, all your Facebook ads, Google ads, and media accounts can be shut down immediately — even if you haven't done anything wrong.
Facebook has scaled back on advertisers and will continue to do so in the future. Since its inception, Google has also restricted Google ads credit card charges, making it challenging for affiliates to scale their campaigns across multiple accounts. So, why is that?
A significant drawback of Facebook and Google advertising is that all accounts require a unique payment method. So if one account gets banned, all other Google accounts using the same google ad payment methods get flagged, and Google ads charged on credit card gets blocked. It looks like a simple solution: use multiple Facebook ad credit cards. However, you have to wait several days before receiving your google Ads credit card — or you may not even get a significant enough credit limit to spend the daily amount you need. After all, it's not easy to buy Facebook ad credit with many credit cards; not many banks can offer that without further questions.
That means you have to wait days and even weeks to launch your campaign on new accounts, and you have to be responsible for the hassle of managing the balance of each card Fb and canceling it, then re-ordering all of the cards. So your Google Ads business credit card is in line with Facebook com credit card charges which means you have a lot of restrictions.
Still, doesn't sound good? Yeah.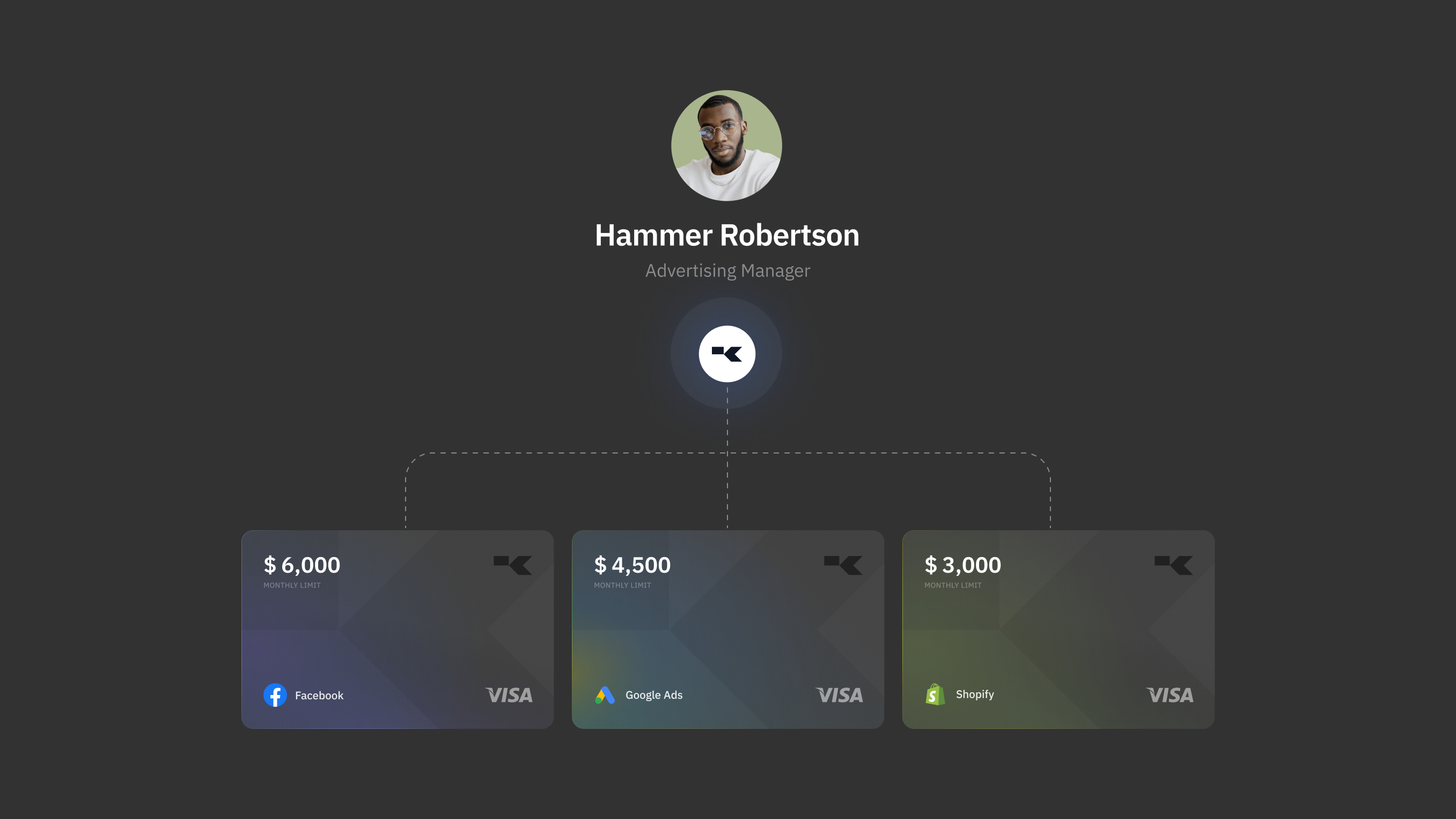 What's the solution?
To stay on track, you need a way to:
Issue many Google Ads and Facebook cards free and use them for different campaigns, teams, or projects;
Set budgets and limits to avoid overspending and chances of being suspended;.
Get a unique virtual number for Facebook or Google, as well as a name on your card.
But standard credit cards or, for example, spend cards for Facebook ads, or Google ads do not fit these needs. The great news is that virtual cards for business do their magic as virtual cards for Facebook and Google Ads.
How do virtual cards for advertising work?
It's easy. Just choose a spending limit; each of your Facebook or Google virtual credit cards will spend from that balance. Manage all your funds centrally instead of monitoring the balance of every card. This is much more convenient for you and your business.
You don't need to buy VCC for Facebook ads; you can create all the virtual cards for business you need. Inside one app, you see your current Facebook cards, Google cards, limit spent, estimated amount, transactions across all your cards, and more.
You can create a virtual credit card for Facebook ads and a Google Ads business credit card for specific or general usage based on the cardholder, advertising campaign, purpose, and budget. It's also essential that you can instantly suspend or cancel your cards as needed. That way, your Google Ads virtual credit card can advertise without interruptions.
You can easily keep track of your ad campaigns in one place rather than dealing with multiple banks and balances on each card.
Avoid interruptions with KARTA virtual cards for business
Transform your ad spending into a seamless process. Get many advertising budgets with real-time control and multiple card creations to better manage your team's Facebook and Google advertising goals.
About cards
Create as many virtual cards as you need
Affiliates need to be able to get new virtual cards or Facebook ads cards on demand. With Karta, you don't have to wait days or weeks to launch new ad campaigns — new cards are issued in seconds.
Divide campaigns for specific platforms
You can issue a card separately for advertising on Facebook and Google Ads. That's the easiest way to eliminate the worry of having your account blocked using third-party cards. The payment methods Google ads or Facebook used are safe too.
Campaign setting and management, simplified
Use a virtual card for Facebook ads and Google ads separately and create budgets and other controls that will let you automatically manage hundreds of Facebook and Google ad campaigns across all platforms. Accounts are linked to specific cards, making recovering an account if you need a cinch — no more constant switching between apps and your project management app.
Put managers in charge of specific ad campaigns
Create a budget for each ad campaign, and assign managers to individual campaigns or projects. You can manage all Facebook and Google ad campaigns or the whole advertising project under one roof.
Stay on top of a track
Get notified about transactions and card spending — no more barrage of a half dozen apps steals your attention. Payments from virtual cards for Facebook ads or Google ads are always where you expect them, and no one will overspend. It's easy to keep on top of things and minimize interruptions.
With KARTA's virtual cards for business, you run a campaign effectively and scale the most successful of them to a broader audience — while attracting more customers and getting more orders — is the result of a well-thought-out strategy. With multiple Facebook and Google ads virtual cards, you stay within your budget and save yourself from running into trouble with your bank.
The advertiser's headache is cured, and you are happy with the advertising process.
Get access to virtual cards for businesses ready to empower your Facebook and Google Ads campaigns.
Create Karta account