Though the pandemic-fueled e-commerce surge is in the rearview mirror, and the market has somewhat plateaued due to the geopolitical instability of 2022, e-commerce sales are still set to grow in the years to come.
This future growth means more opportunities to grab, challenges to overcome, and more rivals to overtake in e-commerce usage. To give you a sneak peek into the future, we've compiled a list of the 15 most important e-commerce statistics to take advantage of in 2023.
1. In 2023, U.S. e-commerce is predicted to pass $1 trillion
The total U.S. retail e-commerce revenue was $870 billion in 2021 and is expected to hit $1.1 trillion in 2023.
Though e-commerce's share of total retail sales remains more or less flat after the pandemic and inflation became entrepreneurs' leading concern in terms of dollars spent, the e-commerce industry is still on the rise.
The key takeaway:
1) The future of American e-commerce looks bright and promising.
2) Do not let yourself be discouraged by its relatively slow growth.
2. The share of e-commerce in total U.S. retail sales is only 14.8%.
Yeah, in-store shopping still takes the biscuit in America.
These numbers in ecommerce statistics show that many customers still prefer shopping in brick-and-mortar stores, finding it more enjoyable than shopping online. You don't get free champagne while visiting an online store, do you?
The opportunity to touch and smell products is another reason people still want to queue up in front of the register.
Ways to recreate in-store experience while shopping online to raise e-commerce figures:
1) Write explicit product descriptions.
2) Make sure your images are zoomable.
3) "Try before you buy," and BNPL are two ways of allowing your customer to get familiar with the product before deciding whether to buy it.
In some product categories, it goes as high as ninety! The discouraging news is that Amazon's shipping speed and stock diversity can in no way be matched by any business other than maybe Walmart, which has a low 6.3% of the market.
With e-commerce statistics of 2.2 billion visits per month, 205 million Prime subscribers, and shipping to more than 100 countries, Amazon is unbeatable and has set the bar for fast delivery, smooth check-out flow, and prompt customer service.
Here's what you could do, though:
1) Sell on smaller, niche marketplaces.
2) Do your best at content marketing. (Amazon does none because it doesn't have to.)
3) Personalize your customer experience to raise your e-commerce shopping statistics.

4. There are more than 9.5 million e-commerce sites in the U.S.
Starting an online business has become so easy that competition is growing faster than customer interest and purchasing power. With so many websites out there, you have only one option: commission some super-duper-freaking-awesome website design to stay on top of Google searches.
A great website design means:
1) Eye-catching and explicit CTAs.
2) Fluid check-out process.
3) Mobile-friendliness.
4) Intuitive navigation.
5) Professional quality product images.
6) A quick connection to customer support (e.g., a live chat).
5. 95% of consumers read online reviews before buying a product.
Talking about online retail statistics, it's understandable — how else can you comb through the overabundance of everything?
Before digitalization, we used to call our friends and family for advice. In the digital world, we trust the opinions of strangers as long as there are enough of them and they are more or less unanimous.
Then again, customers leave negative reviews more willingly than positive ones, and you know what piles of negative reviews can do to your brand's reputation.
On that note of digital commerce statistics:
1) Send letters to loyal customers, asking them to please leave a review.
2) Simplify the review writing process.
3) Encourage users to leave reviews, offering bonuses and discounts in return.
4) Find and share your customers' reviews from other platforms.

However:
1) Don't buy fake reviews; they'll always stare your customer in the face.
2) Never delete negative reviews: no one will trust a business that looks too good.
6. More than half of customers use search engines to find information about products.
Whether online or in-store, consumers google stuff they want to buy.
It's hardly surprising, given that we never part without smartphones. The habit of googling things while standing in a physical store is called "webrooming." It is a massive opportunity for e-commerce businesses to snatch a consumer from under a physical store's nose.
To use this e-commerce data, use customers' dependence on search engines to your advantage:
1) Consider selling on Google Shopping.
2) Invest in paid search.
3) SEO the hell out of your website and product feeds.
4) Regularly check your keywords for effectiveness.
7. 40% of U.S. shoppers purchase a product after seeing it on social media
And 65% of them buy directly from the platform! That's the e-commerce traffic statistics to catch.
Selling things on social media goes by "social commerce" and is expected to grow three times as fast as traditional commerce, hitting one trillion by 2025.
Tips on creating a social commerce strategy:
1) Define your target audience, keeping in mind that millennials and Gen Z are the two most likely to shop on social media.
2) Pick the platforms that your audience is more likely to use.
3) Automate your customer support.
4) Set up a chatbot to engage with your followers.
8. Gen Z's purchasing power is $360 billion.
Generation Z, or "zoomers," were born between 1997 and 2012. Some of them are old enough to buy their stuff. Others manage to shape the future of e-commerce by simply hanging out online.
Unlike older generations, Zoomers were born with a smartphone in their pocket and raised in the age of social media and on-demand entertainment. They care about values and boycott brands that don't correspond to them. Their world is fast, and they won't wait an extra second for your website to load. They spend lots of time on social media and base their purchase preferences on influencers' recommendations.
How do you market to Gen Z?
1) Create short and mobile-optimized content.
2) Use lots of videos and broadcast live streams.
3) Be authentic and translate your values.
4) Partner with influencers.
9. In 2023, Netflix will earn $667 million from connected TV advertising.
This is four times as high as its revenue from desktop, laptop, and mobile ads. Who would have thought that advertising would return to TV, right? Then again, CTV advertising reached 92% of American households in 2022. Wow, what big e-commerce stats.
If you're convinced you should run some CTV ads, here are some tips:
1) Craft short and punchy creatives.
2) A/B tests various versions of your ads.
3) Don't ignore audio — big-screen users are less likely to mute your ad than YouTubers.
4) Show QR codes for more user engagement.
5) Segment your audience by location, behavior, and demographics.
10. 77% of shoppers expect retailers to innovate non-stop.
And guess which generation is the most demanding? (Spoiler: Gen Z.)
The most wanted e-commerce improvement globally is frictionless payments and online and in-store payment options. The next item on clients' wishlists is AI-powered personalized service, which means customers are craving you to care about their specific wants and needs.
A cherry on top of e-commerce business statistics: Gen Z'ers want both online and brick-and-mortar retailers to invest in VR/AR technology for a more entertaining and immersive user experience.
Obvious takeaways:
Stay tech-savvy, invest in innovation and google what metaverse is.
11. 30% of shoppers opt for environment-friendly brands and retailers.
Years, when "tree-hugger" was derogatory are long gone, and eco-friendly products are no longer niche.
As "eco-wakening" sweeps the world, the popularity of green commerce grows, as do brands that are contributing to a healthier planet.
With Gen Z joining the consumer mix, it looks like being environmentally sustainable will be a must for business survival in the future.
And here's how to green your business is:
1) Incorporate pre-owned products into your line.
2) Reduce your packaging.
3) Opt for paperless receipts.
4) Assess your carbon emissions and try to lower them by choosing local suppliers over more distant ones.
12. Only 2.3% of U.S. e-commerce website visits convert into a purchase.
We know it hurts. Only two potential customers in a hundred become your actual customers.
More specifically, the funnel looks like this: only 11% of visitors add something to the cart, and only 20% of those who added something to the cart complete the purchase.
Moreover, the conversion rate is even lower on mobile: as of the second quarter of 2022, only 2% of e-commerce website visits converted into smartphone purchases, compared to 3% on desktops. Yes, exciting stats about e-commerce.
Tips on how to increase your conversion rate:
1) Use performance marketing and track your metrics and e-commerce growth statistics.
2) Shorten your check-out flow.
3) Send abandoned cart emails to win some of the customers back.
4) Offer accessible or free shipping on your landing and product pages.
5) Add a chatbot. Sometimes users leave simply because there's no one to answer their questions.
6) Make sure your CTA's are noticeable and explicit.
7) Include customer reviews on your product pages.
8) Provide high-quality pictures and explicit descriptions for each product you sell.
And, despite conversion rates on mobile being lower than those on desktop, according to global e-commerce statistics, by 2026, mobile commerce is still expected to make up more than 45% of e-commerce revenues.
Prepare for the rise in m-commerce:
1) Optimize your website for mobile.
2) Provide ample payment options, keeping in mind that 77% of Gen Z'ers prefer paying by mobile.
3) Consider the total phone user experience while developing your m-commerce strategy. Shopping while taking your kids to school is not the same as shopping on a cozy couch with a big-screen computer on your lap.
14. Customers' top expectations are sufficient stock and fast delivery.
43% of online shoppers admit that the two most important attributes when shopping online are in-stock availability of desired items and fast and reliable delivery.
The least you could do to meet those expectations is:
1) Leverage lists of favorites and out-of-stock notifications.
2) Email your customers when their favorites are back in stock.
3) Offer the fastest and cheapest delivery options possible without hurting your profit margins.
Simply put, about 2.14 billion digital buyers on this planet are projected to spend $5.5 trillion online in 2022, and half of them consider buying goods from overseas.
Now, if business is good and you're ready for international success:
1) Lokalize all of your content.
2) Provide customer support in your customers' language.
3) Optimize your international shipping options.
Conclusion
As you shape your strategy of e-commerce in 2023, it is essential to keep in mind the changing demographics of digital shoppers, observe the current technological trends, diversify your marketing, and try to be as omnichannel as possible.
Optimize your e-сommerce strategy with smarter spend managemet
To stay on top of online sales statistics and keep your business competitive and thriving, it is convenient to automate petty tasks like expense tracking, for instance, freeing more time for growth and innovation.
Get started
Get a single service for tracking all your financial flows at once
After a 5-minute sign-up process, you'll be able to send and receive payments, generate invoices, and create sub-accounts to divide your finances into categories like operating costs, savings, and investments.
Divide expenses and monitor all your budgets
Our flexible budget feature means creating a joint spending space for a single team, project, or vendor. You can also assign budgets to marketing expenses, cloud service payments, development costs, etc.
Issue unlimited virtual cards
Each card has its limit and access rules, reducing the possibility of overspending to zero. You can also issue a single-use card and link it to a single subscription or marketing campaign.
Track your teams' spending in real time
Our centralized dashboard shows all your employees' transactions as they happen, and is a handy tool for controlling your company's spending at once.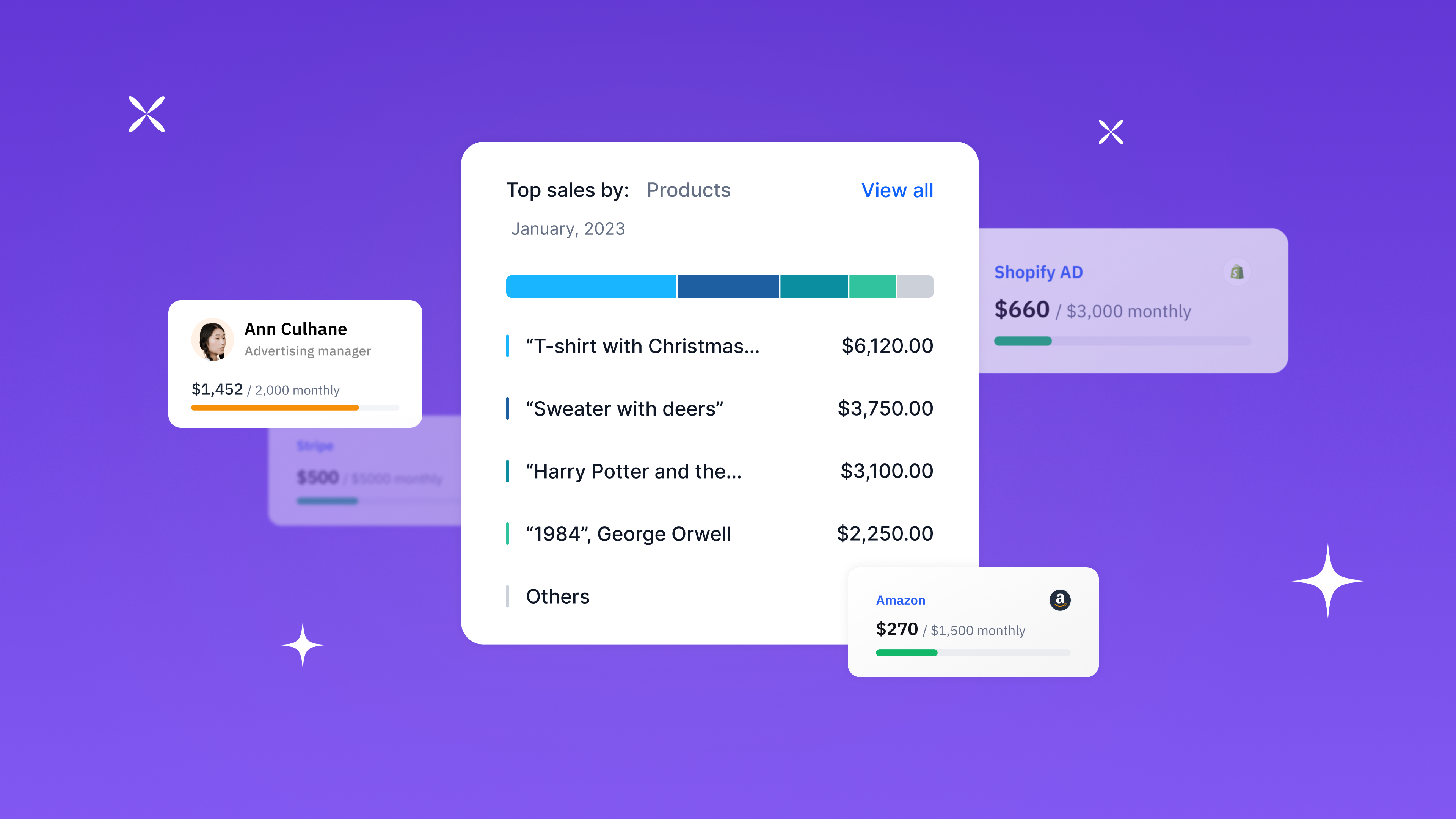 FAQ
What is the growth rate of e-сommerce?
Global online shopping statistics will expand at a compound annual rate of 14.7% a year from 2020 to 2027. In the U.S., e-commerce is projected to grow by 13.48%, reaching a market volume of $1.7 trillion in 2027.
Which country is No 1 in e-сommerce?
In China, e-commerce makes up a whopping 46.3% of total retail sales, which is three times as high as what we have in the U.S. It is followed by the UK (36.3%) and South Korea (32.2%).
Who uses e-сommerce the most?
In 2020 millennials comprised the largest digital buyers in the U.S., accounting for 20.2% of those who shop online. In 2022 Gen Z'ers are expected to account for over 40% of global consumers.
What are the threats to e-commerce?
Since an e-commerce store sells goods online, it is particularly vulnerable to internet fraud, phishing attacks, and other data breaches. Besides hackers, online businesses must watch out for payment conflicts between users and the platform that result from bugs and glitches.