According to Statista, e-commerce sales are expected to reach $6.3 trillion by 2024.
So, as a company grows, the team's expenditure becomes more and more hectic and keeping track of all the transactions performed each day gets more complicated. Here's where virtual cards come to help.
A virtual card: what is it?
In our previous article, we discussed the differences between physical and virtual cards. Overall, a virtual card gives you greater control over your spending and protects you from fraud. And while detailed spending control might be a no-brainer for an individual, it's far from simple for a business owner.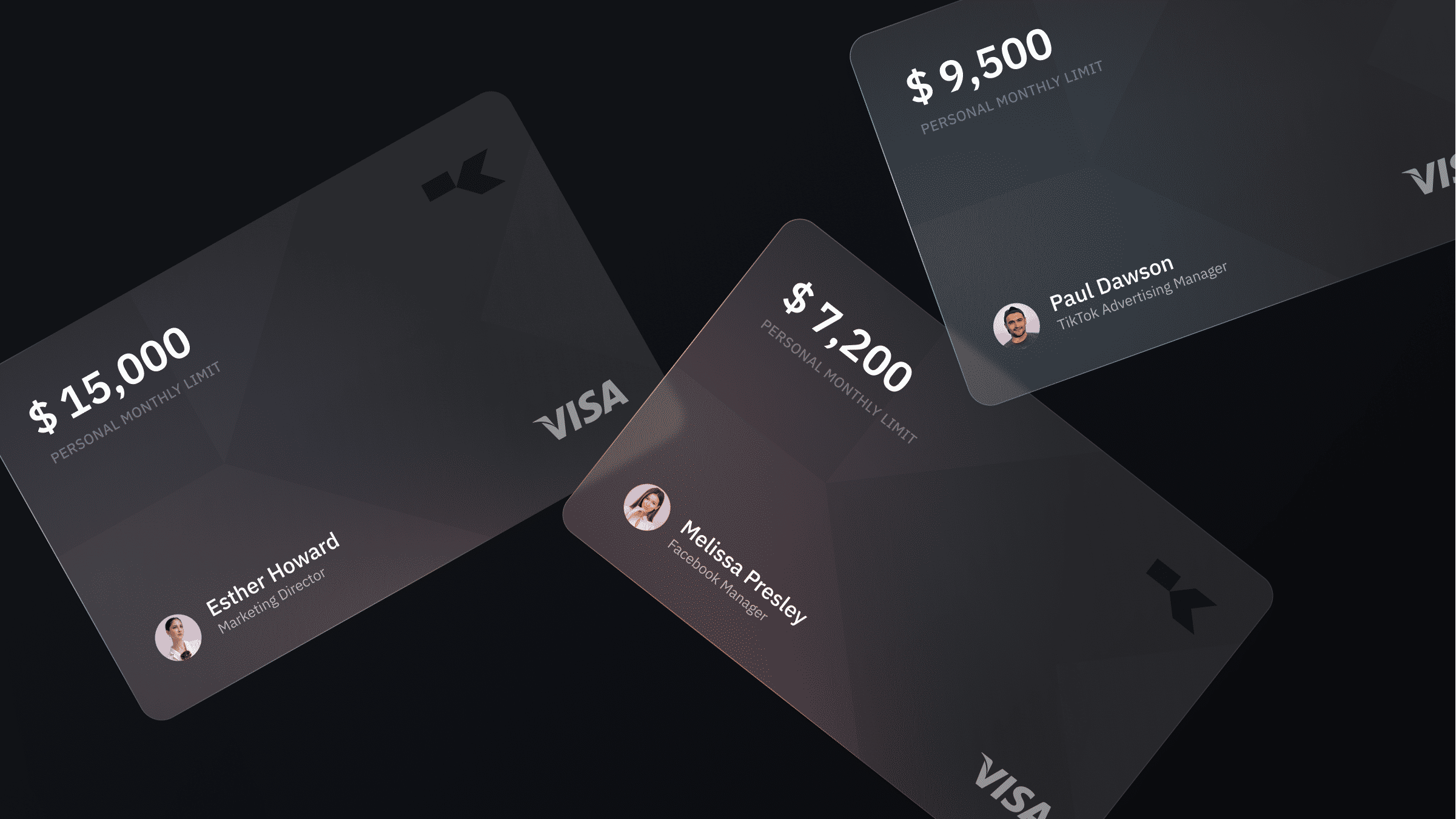 Why consider virtual cards for your business
An old-school card is always directly linked to your banking account. That implies that if it gets stolen or compromised, a thief or hacker will be able to dip their hands into your account and steal as much as they can carry.
Virtual cards, on the other hand, can but don't have to be linked to your primary account, and it's up to you to decide how much money is deductible from each card. If a digital card is compromised, you cancel it and issue a new one immediately. Consider the 3–5 days it takes to issue standard bank plastic.
Another important advantage of virtual cards for any business is the ability to regulate expenditure without having to actually control anybody.
As your e-commerce business grows and your staff numbers increase, controlling who spends on what will get more and more challenging. That's another reason why virtual e-commerce spend card is great — it allows for automated control over your expenses. All you have to do is set a limit and let the employers do their thing while you're busy being smart and innovative.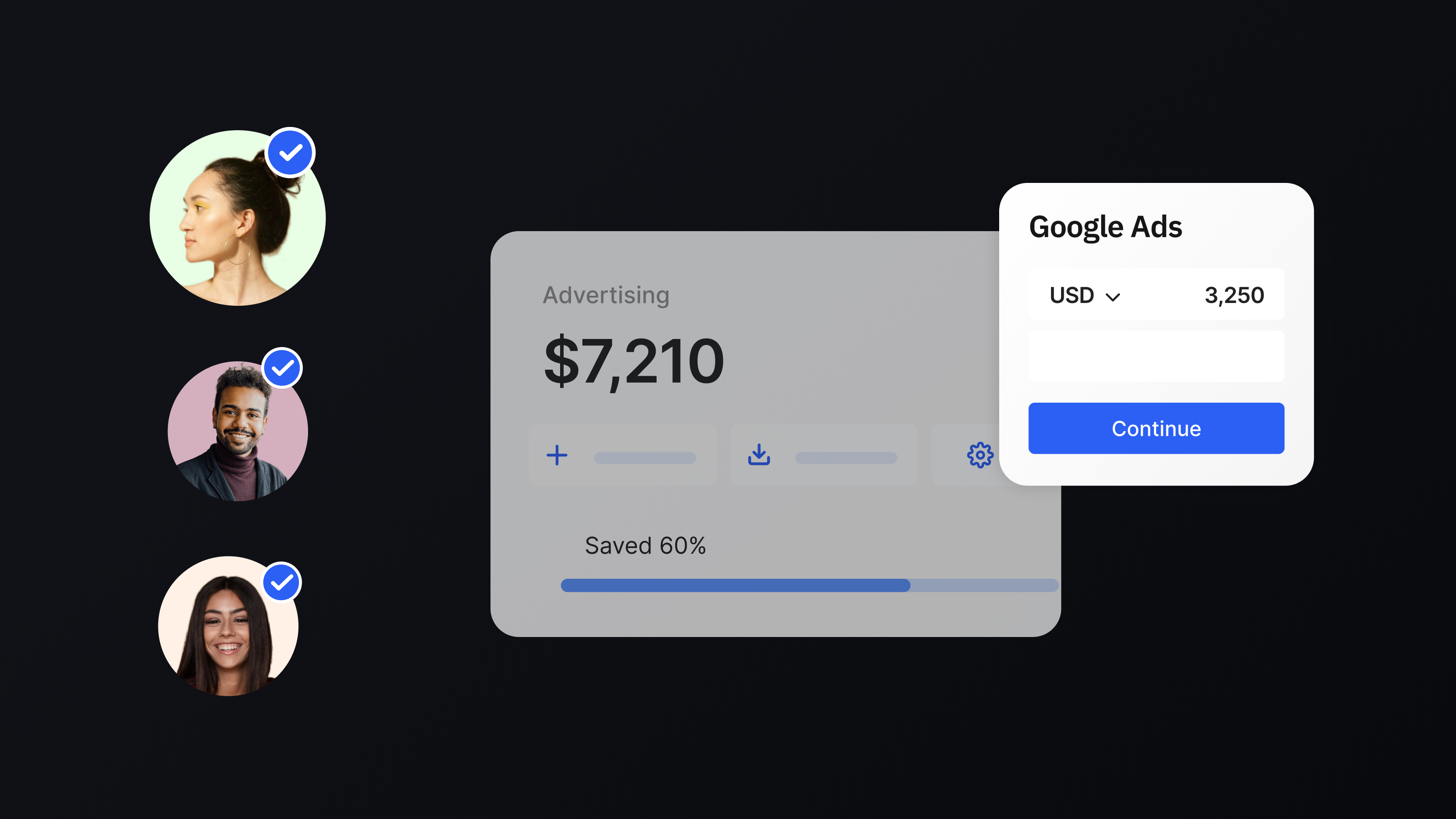 The benefits of digital cards for e-commerce
Sure enough, any business performs dozens of transactions per day. In the case of e-commerce businesses, we're talking hundreds.
Dropshipping charges, platform payments, ads, and those cloud-based subscription services your team can't imagine their lives without, add up to a lot of scattered spending. When you grant vendors direct access to your account, you inevitably face the risk of a wrongful charge on their part. It's almost like the hotel that charges you for the minibar soda you didn't have weeks after your stay. With a virtual card, which has on its balance only a limited amount of funds, an unauthorized deduction just ain't gonna happen.
Regarding ads, we all agree that the more flexible your advertising strategy is, the better. Your finger must always be on the pulse. That is exactly why you don't want Facebook to ban your account because you've used the same card in two places at once. Having a distinct card for each ad account or network,be it Facebook Ads, TikTok Ads, Google Ads, or any other advertising platform, will surely spare you this trouble. You can set a budget to front-load your spending on advertising and other tools to boost sales before you can recognize those sales.
Then there are subscriptions. Website hosting, Shopify, Slack, Trello, that is, practically all marketplace platforms and cloud services, are all subscription-based and kind of a pain to cancel. Sometimes your employees literally have to contact people by email to unsubscribe from services your business is no longer using. But suppose you've issued a card for each recurring expense. All it takes to cancel a subscription now is to cancel the card itself.
Lastly, virtual e-commerce cards offer maximum transparency regarding employees' spending. Employees are not bad people, yet 85% admit to lying on expense reports. The easiest way to safeguard your company from expense fraud is to allocate a virtual card to each team or even to an employee and have a manager monitor the whole picture.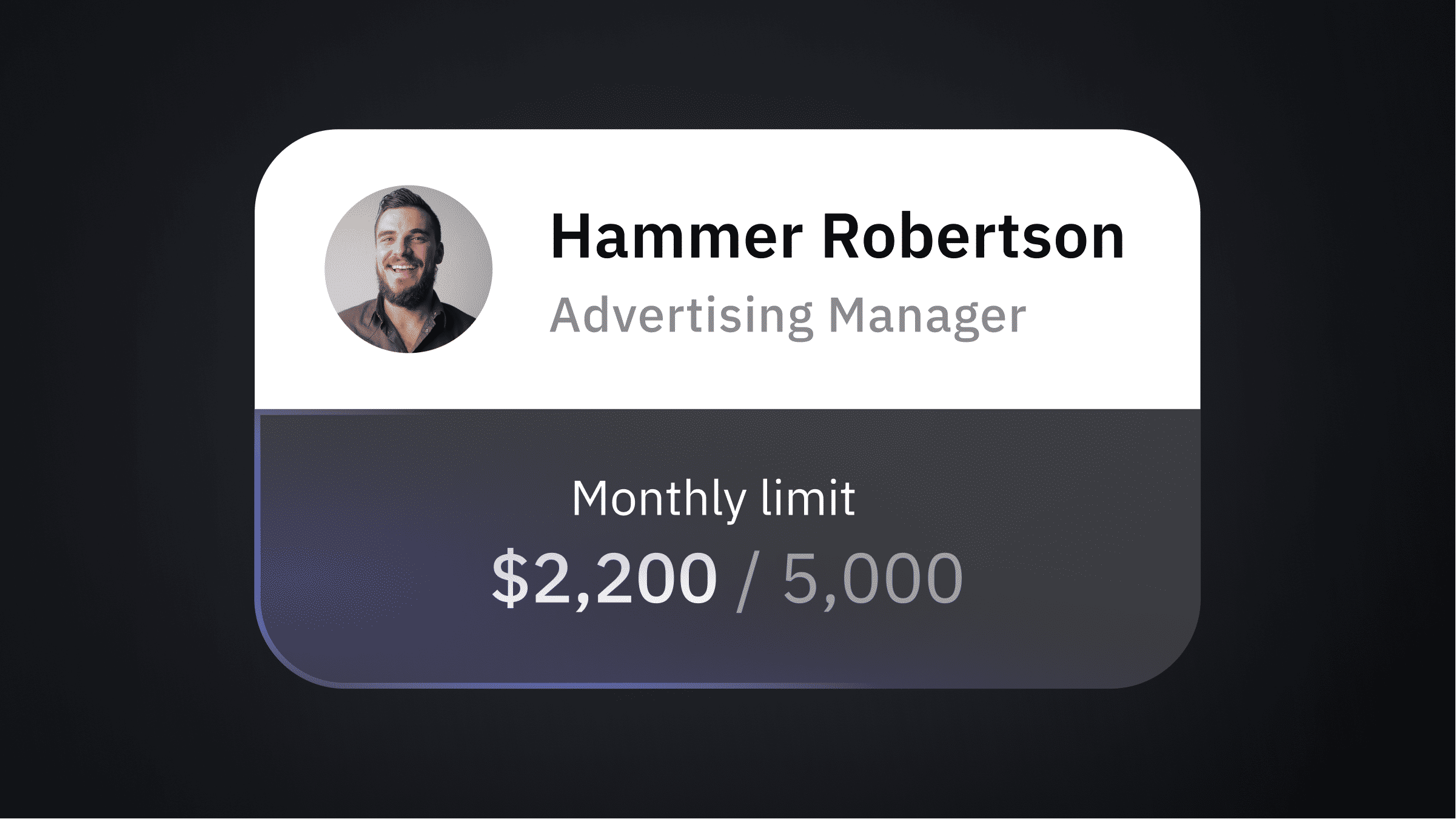 Our solution for a seamless spending control
Karta virtual cards have been designed with e-commerce needs in mind.
Learn more
With our smart spending control solution, you can:
Allocate budgets to projects and teams — in Budgets;
Issue multiple virtual cards for each employee and set limits calculated specifically for their needs and responsibilities;
Use a different card for each type of payment (ad networks like Facebook or Google Ads, marketplace platforms like Shopify, cloud services like ClickUp or Trello, and so on);
Link a separate card to each vendor so as not to risk any wrongful charges;
Avoid ad account suspension by not having any "suspicious" cards linked to a lot of accounts at once;
Minimize the risk of fraud;
Watch your team spend in real-time and intervene at any point along the way.
The smart finance ecosystem we're offering allows you to strategize on the go, which is so crucial today as things are as turbulent as they have ever been. Watch your company's spending, intervene at any time your gut tells you to, and be free in your creativity without fearing for the security of the money you've earned.
Karta finance software was designed for e-commerce
If that appeals to your rapidly growing e-commerce business, and if you're looking for a safe and efficient way to manage your business's expenses, then Karta's virtual solutions are certainly the way to go.
Get started